El Palau de la Música Catalana, Barcelona, Spain
Engineers: Arjen van der Schoot & CSS Audiovisual Staff
The concert hall of Barcelona's El Palau de la Música Catalana is a magical space, conceived and designed as an enormous glass box crowned with a large central skylight.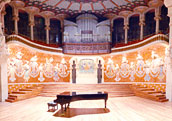 Listed as a UNESCO World Heritage Site since 1997, the Palau de la Música Catalana (Palace of Catalan Music) was built between 1905 and 1908. The modernist hall of the Palau, which seats about 2,200 people, is the only auditorium in Europe that is illuminated during daylight hours entirely by natural light. The walls on two sides consist primarily of stained-glass panes set in magnificent arches, and overhead is an enormous skylight of stained glass.
The unorthodox application of surface materials, for instance the tiled floor, sets this hall apart acoustically from other concert halls in the Altiverb acoustics library.