Berwaldhallen Stockholm, Sweden
Engineers: Peter Bakker, Rene Sundvall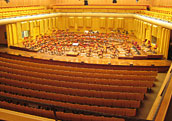 Sweden's main concert hall.
The 1300 seat Berwald Concert Hall, with the Swedish Radio Symphony Orchestra and the Swedish Radio Choir, is one of the most important cultural institutions in the country, reaching far beyond the borders of Sweden. Through the collaboration with the EBU, the European Broadcasting Union, many of the concerts at Berwaldhallen are broadcast abroad, sometimes in over 20 different countries, giving the programs an audience of many millions.
Recorded using the Quad Spider consisting of 4 DPA 4006 Omnidirectional microphones and a Genelec 1032 monitor to play back the sweeps.