Grythyttans Kyrka, Hällefors Sweden
Recording date: August 29, 2008
Engineer: Peter Bakker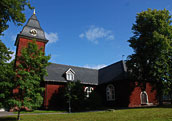 This is a typical timber church for the region Bergslagen in Sweden. Built in 1680 and restored in 1953 this beautiful cross shaped wooden church is a valuable addition to the Altiverb Ir library.
For Altiverb XL Surround this IR set includes speaker positions on the rear of the system.
If you load the stereo to quad (s-q) in one Altiverb and the "rear speakers s-q" in another you can set up a remarkably lifelike ensemble around you.

For best results in obtaining this surround ensemble it is advised to switch on the direct sound and not mix dry sound in. Instead you can turn 'direct color' to flat and manage dry to reverberant ratio using the direct sound's gain.