Ferber - Paris, France
Engineers: Arjen van der Schoot, Aram Verwoest
This is the famous room of Ferber, designed by René Ameline in 1973.
Over the last 40 years close to all famous French artists and also international (like recently Franz Ferdinand, Jamiroquai, Muse, Feist) came here to record and mix.
Studio A is a room of 900 m3 and is really efficient for recording a band all together without pollution between instruments. Lots of room and still very silent. This room is also called the studio cathédrale.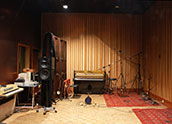 Studio B is a smaller cabin like room, with a large mixing desk in the control room. It features much of the same acoustic treatment that studio A has. It makes a nice drum room.