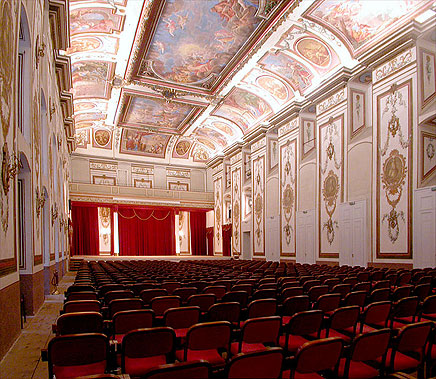 Haydn Hall, Schloss Esterházy
Eisenstadt, Austria
Date: november 30, 2004
Engineers: Arjen van der Schoot, Aram Verwoest.
The Haydn Hall, with its very distinct slap-backs, offers very diverse sounds at the different microphone positions. The stereo image is quite 'open' possibly due to the presence of strong lateral reflections. For 17th century sized orchestras, Haydn saal is considered the ideal hall. Except in winter when it is not heated to preserve the valuable fresco's.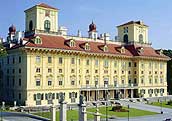 The splendid Baroque residence palace built by Carlo Martino Carlone for Prince Paul IV Esterházy (1635–1713) between 1663 and 1672 transforming the medieval castle. Prince Paul Anton Esterházy (1711–1762), Prince Nicholas Joseph Esterházy (1714–1790) and Prince Nicholas II Esterházy (1765–1833) were the patrons of the composer Joseph Haydn (1732–1809), who worked here from 1761 for 30 years as court conductor. The precious festival hall, today called Haydn-Saal, was the room where Haydn conducted uncounted performances which were also visited by such famous guests as Ludwig van Beethoven, Franz List, but also by Lady Hamilton or Admiral Nelson.