Quick start: download & check out the example session featuring a short 360 video, mono panning audio, binaural preview and export suggestion.
download Pro Tools example session
download VST example projects for Cubase, Nuendo and Reaper
Basic workflow

If you have a flattened spherical video to work with, import the video in your project and bring up the video window.
Give the mono in channel that you want to position a quad (4 channel) output.
Then insert a 360pan plug-in on this channel.
The 360pan is inserted as the last plug-in in your channel. After compression, eq and such.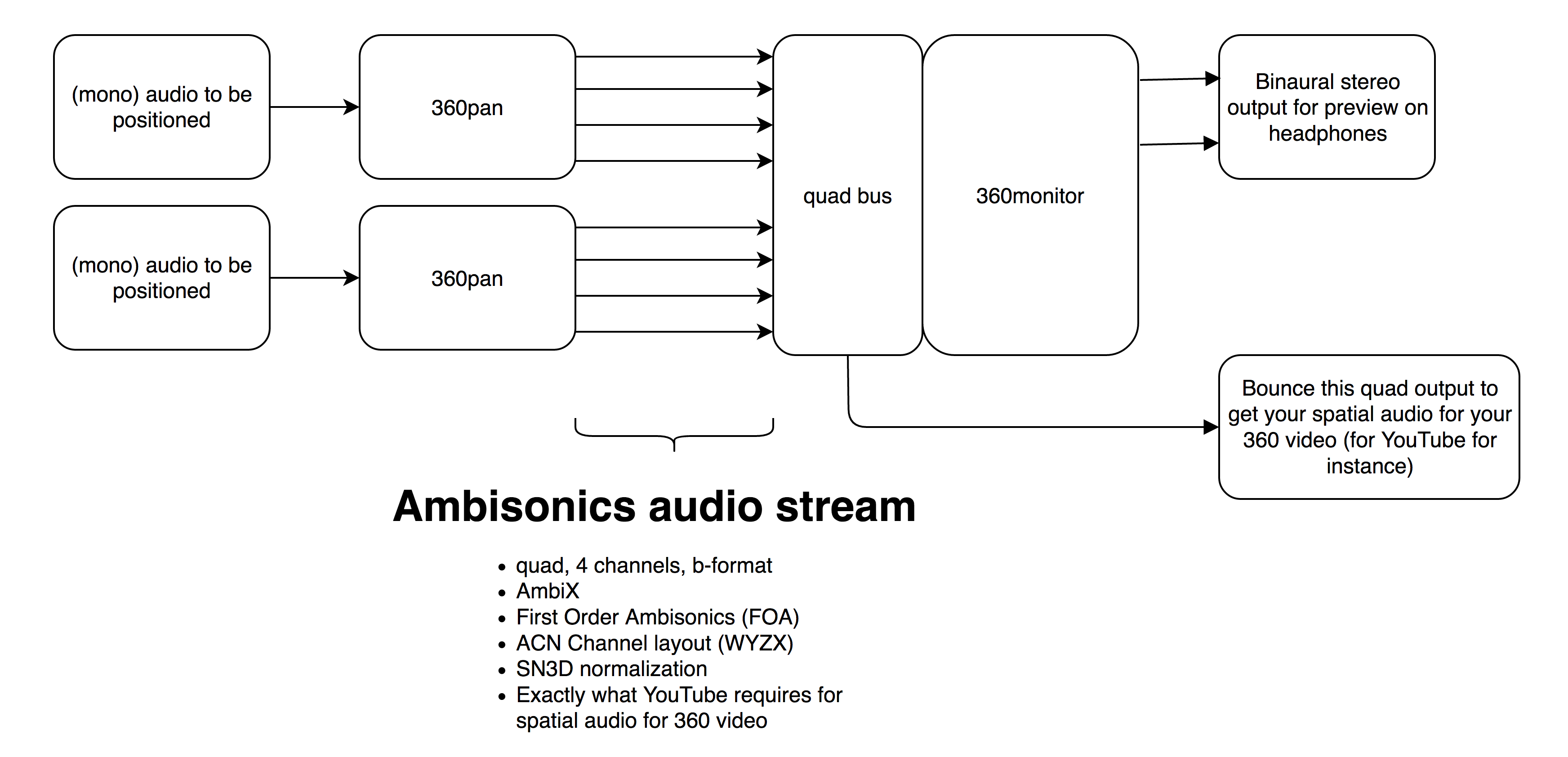 The indicator from the 360pan plug-in (the puck) shows up in the video window (bearing the track's name), and it can be operated from there as well, so you can close the 360pan plug-in window.
You can insert a number of 360pan plug-ins on different tracks in your project and all pucks will be visible and moveable in the video window.
Note: Top / bottom area mono
Please note that in a spherical flattened video image the zenith, the point right above your head, is stretched out horizontally over the entire top of the image. Moving a puck there will therefore always result in the sound moving to the (top) center. The same goes for the point right below you.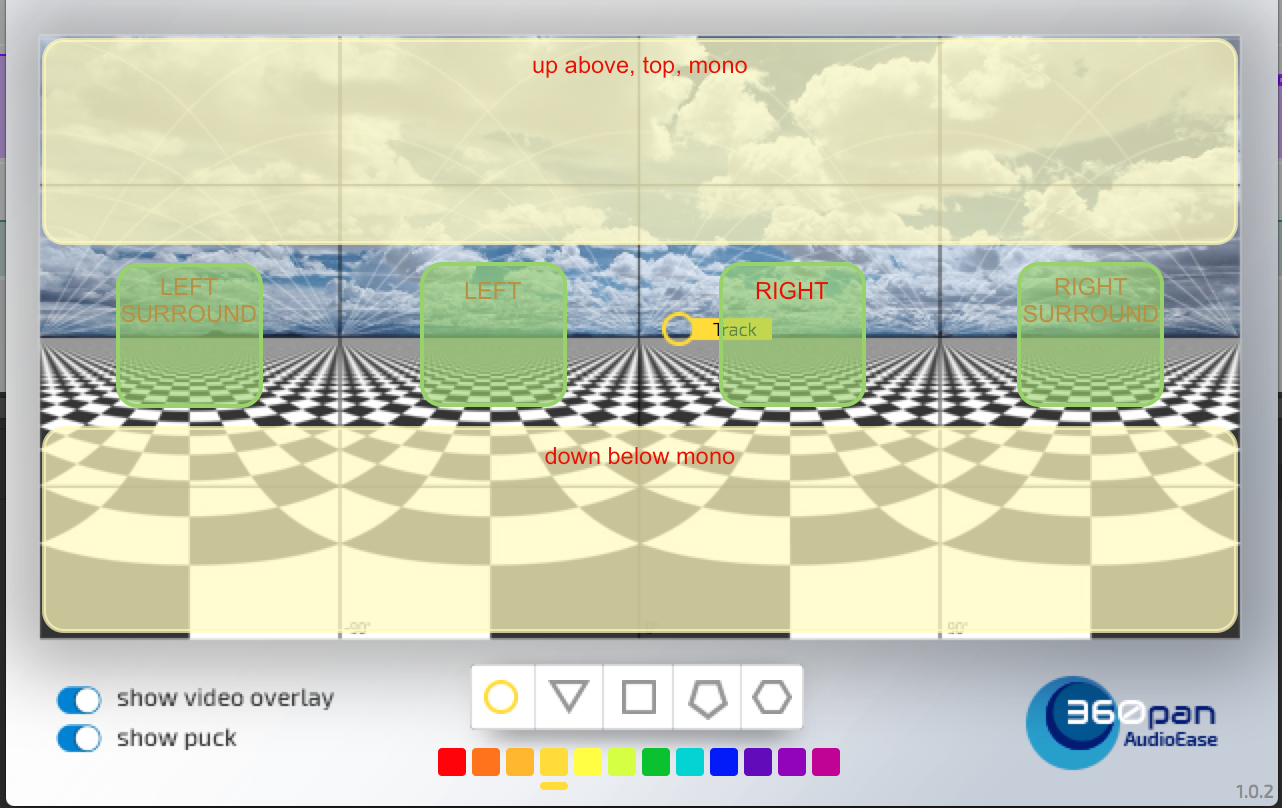 Listening to the Ambisonic (b-format) pan output
The 4 channels that are now output of the 360pan are not meant to be listened to directly.
You should route these to a 4 channel master or bus, and in there insert a 360monitor. Use only a single instance of 360monitor, all the way at the end of the signal flow.
The 360monitor collapses the 4 channel ambisonics world to two channels for headphone listening. 360monitor does this using the same technology that YouTube uses when the viewer listens to the resulting 360 video. This step is called ambisonics to binaural conversion and while doing it, the view direction can be changed continuously: you can look 'around'.
In the 360monitor this is done by dragging the video right inside of 360monitor plug-in window. The audio will turn along with your movement.
The 360monitor intends to give you a 100% truthful preview of what your end product will sound like on YouTube.
If you are disappointed by what you are hearing, than know that this is what your viewers are hearing, and the only way to eq your way towards a better sounding mix is by continuously monitoring using the particular ambisonics to binaural conversion from 360monitor / YouTube.
Preview/mix on four speakers
A 4 input 4 output 360monitor plug-in is also available. This performs an ambisonics to quad conversion for speaker listening. If you are tired of listening over headphones, go sit in between four speakers in a square (the L, R, Ls and Rs of your 5.1 or 7.1 setup for instance) and listen to your work that way.
Panning a stereo signal
A 2 channel input 360pan is available too. It will present two pucks and is intende to place stereo recordings in your mix. You can move the pucks individually or hold down shift to move both of them simultaneously.

Likewise a 4 channel input 360pan exists. This is intended to receive either 4 channel recordings or quad surround reverb.
Export
When you are done mixing, you bounce the 4 channels ambisonics stream to a file for inclusion in the YouTube 360 video. Read more on export below.
360pan automation

You play the video and track the movement of your 360pan pucks.
A circular parameter needs to pass over from max value (+179) to min value (-180) in the rear. This happens at the left and right edges of the video screen.
Audio Ease chose to make the left-right (azimuth) and up-down (height) parameters of type Stepped rather than type Line. Stepped is not the most convenient type when trying to draw automation, or when using Pro Tools' Glide To All Enabled feature. For this a type Line would have been a lot more convenient.
However Line type automation creates a diagonal line between the maximal and minimal value (179 and -180), making the puck travel back to the other side rather than through the passover point. The length of this diagonal line is all up to Pro Tools and your automation thinning settings. And this is less steep when Pro Tools is more busy. In any event, this can cause glitches and this cannot be prevented.
The stepped parameter does not suffer from this and ensures a smooth pan at all times.
Mix tip: the W channel

Mixing non-turning audio, like Voice Overs, in the W channel.
The first channel of the ambisonics stream is the W channel, which goes to all virtual speakers in the ambisonics to binaural converter. This means you can place non-turning mono audio there, great for voice overs.

In order to use this you should go into I/O settings dialogue of Pro Tools and create a mono subpath in the quad bus you are using for the ambisonics signal.
The mono subpath's I/O puck should be placed on the first channel of the quad bus. Most likely, by default, it will be named L for left. But this is in fact W in the ambisonics signal. Anything you mix here will not turn and sound from the center of the mix (in head).
Distance

We were looking at available ambisonics panners and thought it was too difficult to attach a mono sound to an object on screen so we made the overlay with the pucks.
This means we have a frontal view of the panning arena, just like the video window. Most other ambisonics panners have a birds-eye (from the top) view.
That is because other ambisonics panners want to be able to easily display and encode distance.

Encoding distance is a game-engine paradigm. In games everything needs to remain interactive, not just the viewing angle. So in games there is no way to provide any sound source with a fixed reverb, because in games you can walk up to the sound source, in which case it needs to sound dry, or move away form it, which would make the source sound wetter.

In a game you can decide to walk away form another guy halfway his sentence, which should make him become distant-sounding at a viewer/player defined moment.

In audio post for picture, which is what Audio Ease caters for, everything you get is linear, cinematic storytelling.
In 360 video, the only thing that needs to remain interactive is the viewing angle. The viewer does not get to decide where he is himself, nor how far away the other people are. So reverb levels can be balanced to perfection, dopplers too, early reflections as well. There are no cpu-load limits. The beauty of the mix, lets call it audio quality, can therefore be way higher than in games. Audio quality can be as high as in, you guessed it, audio post for picture.

In audio post for picture, which is again what Audio Ease caters for, panners do not do distance. Distance is handled by a volume fader.
In audio post mixers have their own methods to create distance in sound. Tricks like eq'ing and Pre-fader sends to make reverb stay at a fixed level while the dry sound is faded out, which creates a distance effect.
In audio Post people use higher quality reverbs, higher quality doppler plug-ins (if required at all), and most certainly higher quality early reflections than in games.

This is why we have chosen not encode distance at all in 360pan suite. And we think that is best for 360 audio post, or 3D Audio or Virtual Reality cinematic linear storytelling.
Export 360pan suite audio to YouTube

Follow these steps to upload 360 video with ambisonics audio to YouTube. So that the viewer gets interactive turning audio when looking around in the VR video.

Here's the official YouTube guide:
https://support.google.com/youtube/answer/6178631?hl=en

Here's our recipe:
Mix your audio and place (pan) it using the 360pan suite.
Bounce the resulting quad audio to:
- an interleaved file and ask your video producer to add this to the video
- or bounce directly to the quicktime video, using pro tools

In both situations bounce as quad (four channel) interleaved wave audio file (not compressed).

Then download the Spatial Media Metadata Injector app

Open your video with the quad ambisonics audio in the Spatial Media Metadata Injector app.
Check the first and last box (Video is spherical and audio is spatial, ambiX)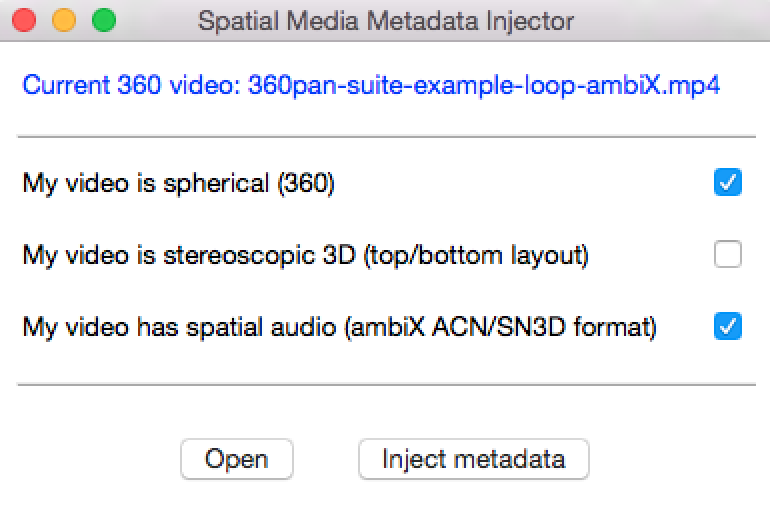 Inject metadata, upload to YouTube, wait an hour for your 360 video to process. Watch in a modern browser (Chrome works for sure, Firefox and Safari might work too) to verify you get spatial audio (look around with headphones on!).